Chicken Salad with Tahini Vinaigrette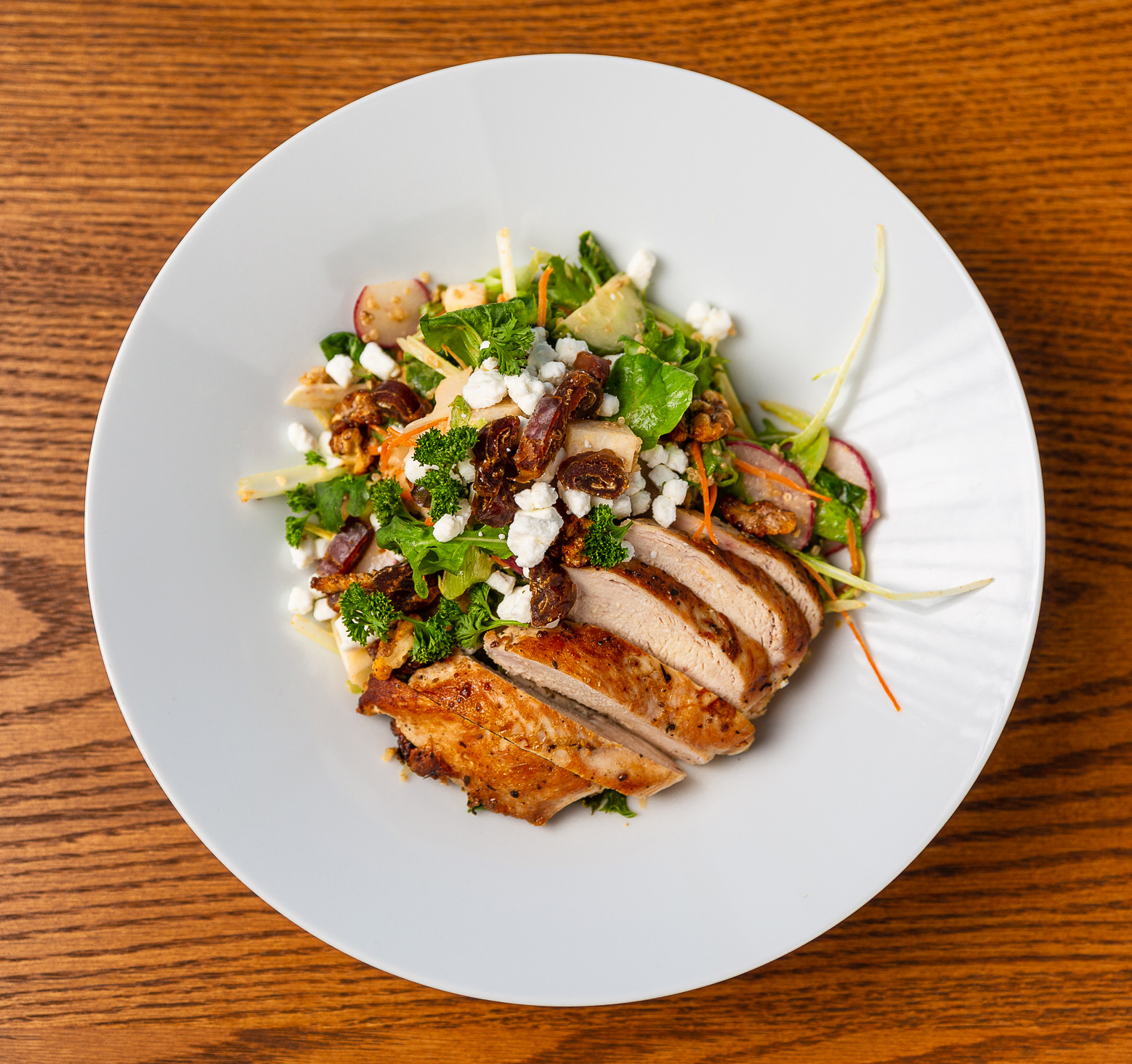 It doesn't get more delicious than this loaded Mediterranean-style leafy greens salad. And while the list of ingredients is long, it's simple to make and is the perfect healthy and delicious dinner, any night of the week.
What's inspiring about this salad is the way the flavours layer on top of each other, one by one, harmoniously singing together. The Tahini dressing gives the entire salad a rich and creamy brightness and is a nice departure from your standard vinaigrettes. Don't skimp on the honey and salt in the dressing as they balance out the bitterness, bringing out tahini's best.
This recipe features fully-automated, high-density lettuce grown in a vertical farm using touchless technology. Controlled environment agriculture (cea) ups the quality of each and every plant, utilizing and revolutionizing the very best of future farming.
Ingredients
Salad Dressing:
½ cup tahini
¼ cup warm water
2 lemon (juice and zest)
2 garlic clove (minced)
3 Tbsp honey
¼ cup apple cider vinegar
1 tsp salt
½ tsp paprika
2 Tbsp Dijon mustard
¼ cup mayonnaise
Marinade for chicken:
4 chicken breasts, deboned skin-on
¼ cup olive oil
1 lemon (juiced)
2 garlic cloves (minced)
1 Tbsp dried oregano
2 tsp salt
½ tsp pepper
Salad components:
8 cups salads greens (Up & Away Spring Mix)
8 radishes (sliced)
1 carrot (cut into matchsticks)
1 cucumber (halved and sliced)
½ jicama (diced)
½ fennel bulb (thinly sliced)
1 cup quinoa (cooked and cooled)
salt and pepper
½ cup dates (diced)
⅓ cup walnuts (toasted)
¼ cup parsley sprigs
½ cup feta cheese (crumbled)
Directions
Combine marinade ingredients in a zip lock bag. Add chicken breasts and marinate for at least 2 hours.
In a hot, oiled frying pan place chicken breasts skin side down. Once skin is golden and crisp, flip and bake at 350°F until a thermometer reads 165°F. This will take about 20 minutes. Cut into ½" slices.
To prepare salad, whisk together the dressing ingredients in a large bowl. Add greens, radishes, carrot, cucumber, fennel, jicama and quinoa and toss lightly. Season to taste with salt and pepper. Transfer to a serving platter. Top the salad with dates, walnuts, parsley, feta cheese and arranged cooked sliced chicken on top.