Maple Balsamic Roasted Root Vegetables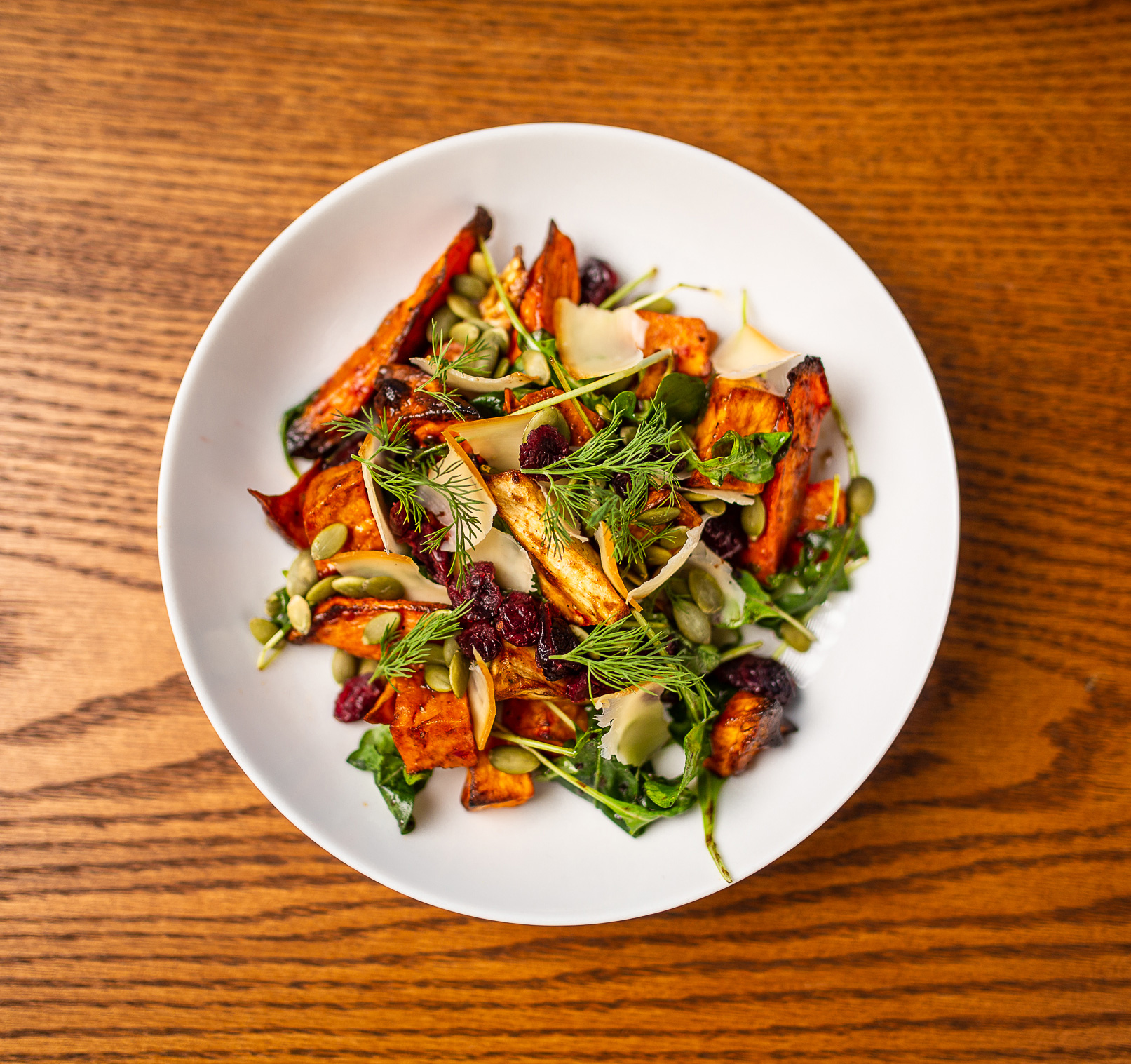 These roasted root vegetables with yam, beet, parsnips and carrots are an easy and healthy side dish and oven baking brings out the sweetness. Great for everyday meals or as a side dish for any holiday. As a weeknight meal, one pan is all you need for a glorious pile of tender, nutritious, and colourful vegetables.
This meal takes the humble root vegetables from being a ho-hum side dish to a spectacular, hearty main by combining it with our Liven UP™ arugula. The peppery arugula tempers the earthiness of the beets and yam, and the dressing combines to bring it all together featuring zesty and peppery notes that are complemented by the wonderful herby rosemary and satisfyingly sweet maple syrup.
Serve this leafy greens salad as the main event for lunch or dinner or serve alongside roasted chicken, lamb or pork tenderloin.
This recipe features fully-automated, high-density lettuce grown in a vertical farm using touchless technology. Controlled environment agriculture (cea) ups the quality of each and every plant, utilizing and revolutionizing the very best of future farming.
Ingredients
Vegetables mixture:
1 yam
2 beets
2 parsnips
2 carrots
olive oil
salt
pepper
Dressing:
¼ cup balsamic vinegar
1 shallot (finely chopped)
1 Tbsp grainy Dijon mustard
1 Tbsp Dijon mustard
2 Tbsp maple syrup
1 tsp salt
1 tsp fresh rosemary (finely chopped)
⅓ cup olive oil
Mix-ins:
4 cups arugula salad greens (Liven Up™)
100 g smoked gouda (shaved with a peeler)
2 Tbsp pumpkin seeds (toasted)
4 Tbsp dried cranberries
2 Tbsp fresh dill
Directions
Peel the root vegetables and cut into bite-size pieces. Toss with olive oil and season with salt and pepper. Place on cookie sheet and bake at 400°F until fork tender, about 40 minutes.
Add balsamic vinegar, shallot, Dijon mustards, maple syrup, salt and rosemary to a medium bowl and combine. Slowly add the olive oil to vinegar mixture, whisking constantly.
Place roasted vegetables in a large bowl, add dressing and toss to coat. Add arugula salad greens and toss lightly once more. Transfer to a platter. Garnish with cheese, pumpkin seeds, cranberries and dill.